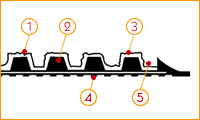 1. Ridges help remove and trap dirt and moisture in the mat.
2. Rubber-reinforced face nubs prevent pile from crushing.
3. "Fiber bundle" offers great wiping and scraping.
4. Great anti-static rating, and available in flat and gripper backing types.
5. Exclusive 'water-dam' minimizes slip hazards and floor damage around the perimeter of the mat.